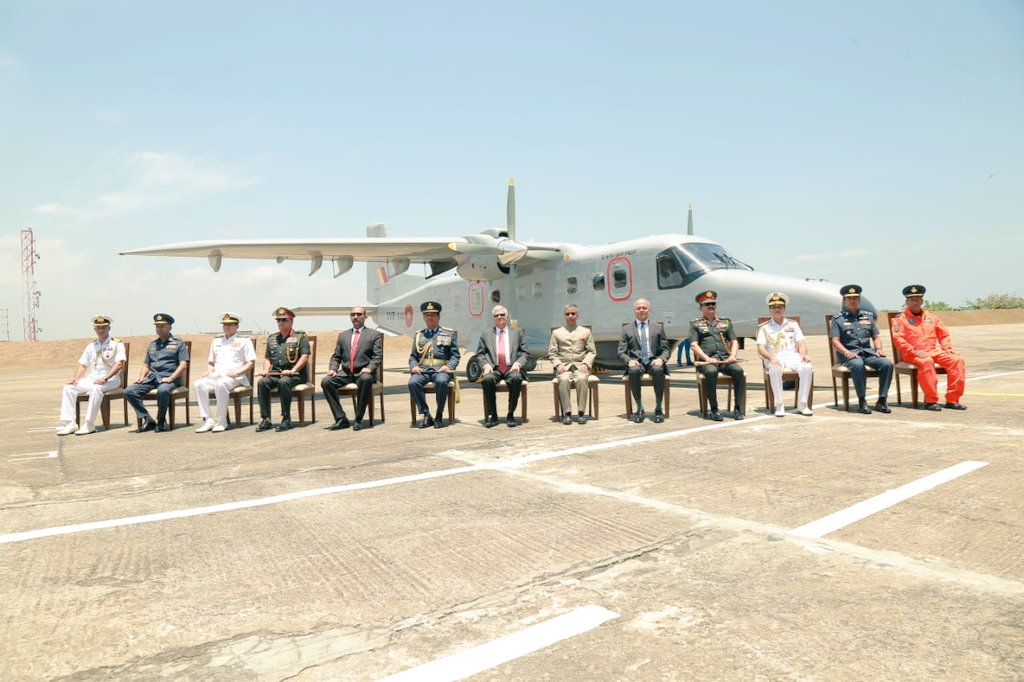 India today handed over a Dornier 228 aircraft to Sri Lanka, the first such aircraft to be handed over to Sri Lanka.
The Indian High Commission in Sri Lanka said that the aircraft was ceremonially welcomed and handed over to the Sri Lanka Air Force in the presence of President Ranil Wickremesinghe and other dignitaries.
The aircraft would act as a force multiplier, enabling Sri Lanka to tackle multiple challenges such as human and drug trafficking, smuggling and other organized forms of crime in its coastal waters more effectively. Induction of the aircraft is timely in view of the current challenges to Sri Lanka's maritime security.
Capability of the aircraft to undertake Search and Rescue operations exemplifies its direct benefit to the people. The gift to the people of Sri Lanka will equip the country to contribute more towards the security of the Indian Ocean Region at large. It may be recalled that maritime security has been identified as a key pillar of the Colombo Security Conclave. Speaking on the occasion, High Commissioner Gopal Baglay emphasized that induction of the aircraft will help in creating a peaceful environment for progress and prosperity of the people of India and Sri Lanka.
The Indian High Commission in Sri Lanka said that gifting of the Dornier aircraft underscores the cooperation between the two maritime neighbours in the defence and security spheres. Such cooperation is envisaged to add further capability and capacity to Sri Lanka and is in line with the vision of Security and Growth for All in the Region (SAGAR). (Colombo Gazette)