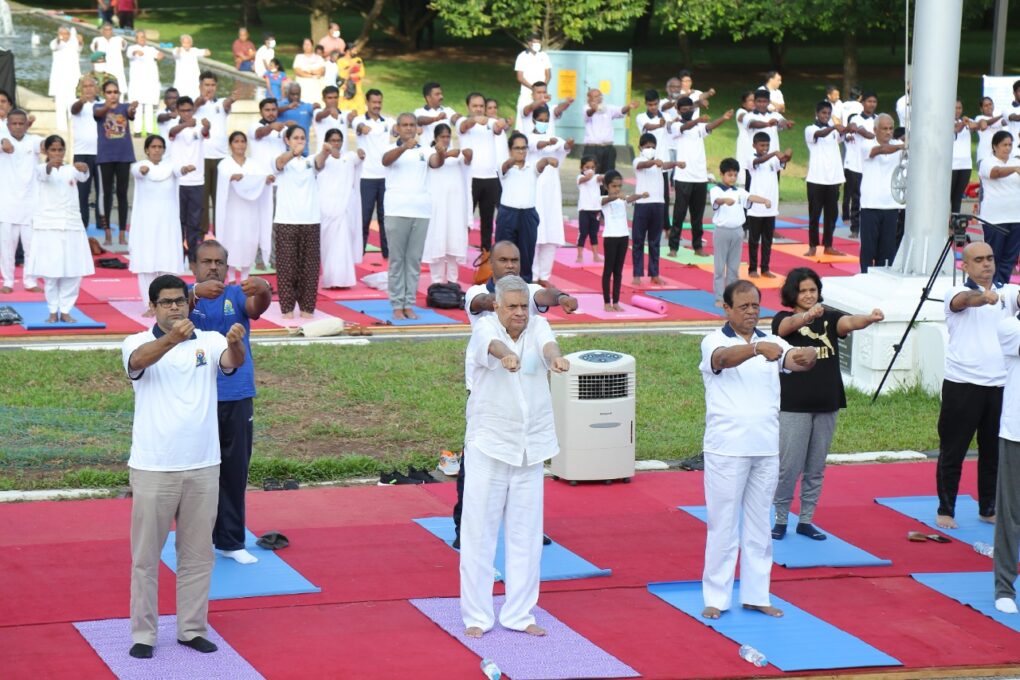 Prime Minister Ranil Wickremesinghe and a number of MPs attended an event held in Colombo today to mark the 8th International Day of Yoga.
A mega event was organized by the High Commission of India and the Swami Vivekananda Cultural Centre (the cultural arm of the High Commission of India) at the iconic Independence Square in Colombo today, to mark the 8th International Day of Yoga.
The event was held in the presence of Ranil Wickremesinghe, Prime Minister of Sri Lanka. (Dr) Susil Prema Jayantha, Minister of Education, Vidura Wickramanayaka, Minister of Buddhasasana, Religious and Cultural Affairs, Kanchana Wijesekera, Minister of Power and Energy, Roshan Ranasinghe, Minister of Irrigation and Minister of Sports and Youth Affairs and Members of Parliament Mano Ganesan, M.A. Sumanthiran, Palani Digambaram, M. Udayakumar and other senior dignitaries.
Acting High Commissioner of India Vinod K. Jacob, officials and staff of the High Commission, hundreds of yoga enthusiasts from all over Sri Lanka also participated in the event.
The theme for the 8th International Day of Yoga is "Yoga for Humanity". During his Yoga Day address in India, Prime Minister Narendra Modi mentioned that Yoga is not only for an individual, but for the entire humanity. Yoga brings peace to the society, the world and the universe. President of Sri Lanka, Gotabaya Rajapaksa addressed a message to the Prime Minister of India defining Yoga as an invaluable ancient Indian tradition to attain physical, social and mental well being. He mentioned that this year's theme is a fitting tribute to the immense benefits of Yoga, especially in the Covid era.
The event at Independence Square commenced with prayers by the Chief Priest of the Param Dhamma Chetiya Pirivena in Ratmalana Most Venerable Dr Maitape Wimalasera Thero, invoking the blessings of the Buddha for overall wellbeing of everyone. Experts from eminent Yoga institutes of Sri Lanka, such as Astanka Yoga Mandir, Ashtanga Yoga Lanka, Aum Kriya Babaji Yoga Aranyam, Brahma Kumari Raja Yoga Centre, Hatha Yoga Centre, Institute of Human Excellence, Rhythmic Yoga Academy, The Art of Living, Yoga for Divine Life, Rama Krishna Mission, Sethsada Yoga Nikethanayana, and Swami Vivekananda Cultural Centre, conducted a rejuvenating session of Yoga and Meditation.
The event, organized in collaboration with the Ministry of Buddhasasana, Religious and Cultural Affairs of Sri Lanka, complements other events being organized by the High Commission to commemorate 'Azadika Amrit Mahotsav'- 75 years of India's independence.  This year, the Yoga Day event was telecast live in India as a part of the 'Guardian Ring' initiative of the Government of India connecting Yoga events from all over the world to highlight the unifying power of Yoga.
A series of events have been organised in the month of June by Swami Vivekananda Cultural Centre to celebrate the International Day of Yoga. These include yoga programmes with schools, Pirivenas, universities, NGOs, Children Care Homes, Elders Homes, cultural organizations, and religious and spiritual institutions, including the sacred Gangaramaya Temple, Shri Ponnambalawaneswaram Kovil, Parama Dhamma Chetiya Pirivena, Siva Vishnu Yoga Peetham ISKON etc. Yoga workshops were also organized at iconic places like Galle Face in Colombo and Point Pedro in Jaffna. In addition, a unique Island-wide Online Yoga Asana Championship was also launched. (Colombo Gazette)