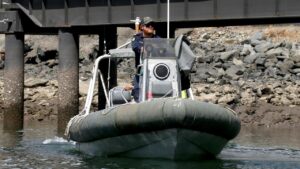 The Australian Border Force said that a vessel attempting to illegally enter Australia from Sri Lanka has been intercepted.
The Australian Government's policy remains unchanged. We will intercept any vessel seeking to reach Australia illegally and to safely return those on board to their point of departure or country of origin.
Measures and safeguards are in place to enable actions and activities to be undertaken in accordance with Australian domestic law and Australia's obligations under international law.
The overriding priority for all agencies involved in Operation Sovereign Borders is the safety of all persons involved, including potential illegal immigrants and vessel crews as well as Australian personnel.
In line with long standing practice, the Australian Border Force said it will make no further comment.
It is understood about 15 people were on board the vessel that was intercepted by Australian authorities off the west coast of Christmas Island after almost making it to land.
Those people were on Saturday afternoon on board an Operation Sovereign Borders vessel having their credentials verified. (Colombo Gazette)