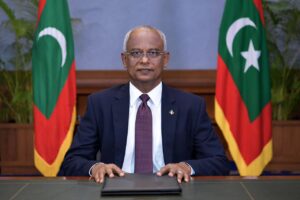 Maldives President Ibrahim Mohamed Solih has assured Sri Lanka every possible support as the country attempts to recover from a major economic crisis.
The Maldives President welcomed the appointment of former President and current Speaker of the Maldivian Parliament, Mohamed Nasheed, to coordinate relief assistance for Sri Lanka.
"Maldives will always stand with Sri Lankans and will support Sri Lanka in every possible way to overcome these difficult times," President Ibrahim Mohamed Solih said.
Prime Minister Ranil Wickremesinghe held discussions with Nasheed today.
During the discussions Nasheed generously offered to assist Sri Lanka in securing relief for the country from foreign nations.
The Prime Minister accepted the former President's offer and appointed him to coordinate the relief efforts.
The Prime Minister thanked former President Nasheed for his support for Sri Lanka during the economic crisis. (Colombo Gazette)