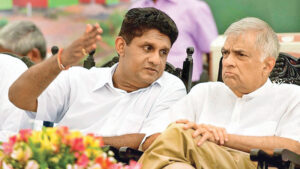 Prime Minister Ranil Wickremesinghe and Opposition Leader Sajith Premadasa today agreed to work together to address serious shortcomings in the country, especially in the health sector.
The Prime Minister requested Premadasa's assistance to obtain urgently required medicine.
Premadasa said that he will do what he can to secure some of the supplies, though it will be limited as he is in the opposition.
The Prime Minister then offered to seek private sector assistance to obtain funding to help Premadasa secure the medicine which is in short supply.
Premadasa also offered the expertise of Samagi Jana Balawegaya MPs Dr. Harsha de Silva, Eran Wickremeratne and Kabir Hashim to address the economic crisis.
The Prime Minister accepted the offer saying he is more than willing to work with people in the calibre of Dr. Harsha de Silva.
The Opposition Leader said that the SJB does not need Ministerial posts to offer assistance at this critical period.
He also said that making statements to the effect that there needs to be a new political culture is good but one must walk the talk. (Colombo Gazette)