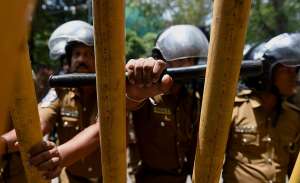 The road leading to Parliament at the Polduwa junction has been closed as Parliament is meeting again from today.
Tight security has been placed along the road and other areas around Parliament.
The last time Parliament convened university students and others gathered at Parliament Road and protested.
The Police had fired tear gas on multiple occasions at the protesters in an attempt to force them to disperse.
However, the students remained but later withdrew saying they will return when Parliament meets again.
Another group had later gathered at the location and clashed with the Police before they also withdrew. (Colombo Gazette)