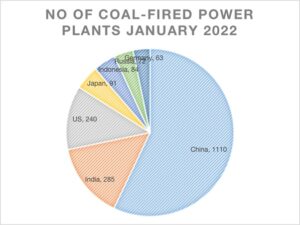 Amid pressure from the international community, Chinese President Xi Jinping had pledged in September 2021 to stop engagements in the coal-fired plants abroad and also become carbon neutral by 2060. However, the recent development clearly shows that China has gone back on its promises. China is going ahead with financing the overseas coal projects, with production capacity of 57 gigawatts. Moreover, China has planned 43 new coal-fired power plants and 18 new blast furnaces in the country, which would only add to its current carbon emissions by 1.5 per cent. It will be a big blow to climate actions and decades of strenuous efforts of environmentalists to compel polluters to take corrective action.
China has planned a massive increase in coal mining this year. About 300 million tonnes of additional coal will be extracted this year. It will be 7 per cent higher than that mined in 2021— 4.1 billion tonnes. China is among the nations that promised to make efforts to limit the warming of the atmosphere to 2 degrees Celsius above the level of pre-industrial times. According to the International Energy Agency, China accounted for 33 per cent of global carbon emissions in 2021, which is more than those of the US and developed countries combined. China claims to be a supporter of strong renewable energy. Yet, most of the rising electricity demand has been fulfilled with coal.
In 2021, carbon emissions in China went over 11.9 billion tonnes, the highest in the world. Against this backdrop, China's decision to set up 43 new coal-fired power plants causes worries. Contrary to the tall promises at climate negotiations in Glasgow in 2021, China has accelerated coal production as it puts energy security and economic growth before climate and environment. "This mentality of ensuring energy security has become dominant, trumping carbon neutrality," said Li Shuo, a senior global policy adviser for Greenpeace. The Chinese actions may derail the global mission of achieving carbon neutrality as other polluting nations would cite China to either increase their coal production or refrain from taking climate actions.
Notably, all the top ten funders of coal power plants across the globe are Chinese banks. Over 70 per cent of coal power plants in the world are financed by Chinese banks under the Belt and Road Initiative (BRI). This goes against China's claims that the BRI promotes green development and strengthens eco-environment protection.
Jinping's announcement to end sponsoring coal power plants overseas was welcomed widely but some had their doubts. Former climate envoy Thom Woodroofe had said "The key thing to watch now is not just what China does at home, but also how much weight this announcement will hold. Will Beijing be able to rein in finance provided by all Chinese banks?". And these concerns later turned out worthy. China produced 357 million tonnes of coal in October 2021, which was 4 per cent higher from September when Jinping pledged. Interestingly, Chinese lenders have invested USD 10 billion in coal projects in 2022, which is more than double of that in 2021.
China has continued its coal mining operations unabated. About 396 million tonnes of coal was mined in March 2020, which was 15 per cent higher year-on-year. Meanwhile, a new coal-based power plant was approved in the coastal province of Zhejiang. Now, China seeks to boost coal production by 300 million tonnes– 150 million tonnes from new, upgraded mines while the rest from the open-pit mines and the defunct ones. China accounted for 54.3 percent of total coal consumption in 2021.
China will have to shut down 600 of its coal-based power plants in the next decade if it wants to achieve the goal of net-zero greenhouse gas emissions by 2060. The reports from the ground and policy analysts suggest that China's use of coal will not decline in accordance with what it has claimed. Energy shortage and ambitious targets of economic growth obstruct China government from taking sincere climate action. This is deemed to be a setback to the efforts to cut carbon emissions from the biggest source. "If China fails on coal, the rest of the world will fail on containing dangerous climate change," said Matthew Gray, the co-chief executive of TransitionZero, a climate analysis company. (POREG)