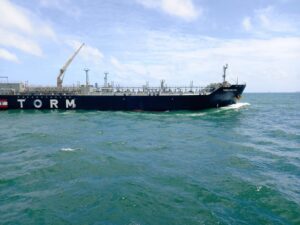 Another shipment of diesel from India has been delivered to Sri Lanka.
The latest consignment of diesel from India under the credit line for fuel was delivered in Colombo by Torm Helvig today.
The Indian High Commission in Colombo said that 12 shipments and more than 400,000 MT of fuel have been delivered to Sri Lanka so far.
Prime Minister Wickremesinghe had said today that the Government is facing an immediate challenge of securing funds to pay for the fuel requirement for this coming week.
He said that due to the dollar shortages in the banks, the Government is now exploring other options of securing the necessary funding. (Colombo Gazette)