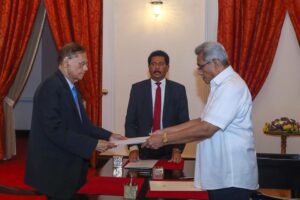 President Gotabaya Rajapaksa today (14) appointed four Cabinet Ministers to handle key tasks until a full Cabinet is appointed.
The President's Office said that the four Ministers were appointed to maintain the legitimacy and stability of the parliamentary activities and other matters in the country until a full Cabinet is appointed.
The four Cabinet Ministers were sworn in before President Gotabaya Rajapaksa at the President's House in Colombo, today (14).
The four Ministers are Professor G.L Peiris – Foreign, Dinesh Gunawardena – Public Administration, Home Affairs, Provincial Councils and Local Government, Prasanna Ranatunga – Urban Development & Housing and Kanchana Wijesekera – Power and Energy.
Their appointment comes after the former Cabinet was dissolved with the resignation of then Prime Minister Mahinda Rajapaksa.
Newly appointed Prime Minister Ranil Wickremesinghe has invited all the political parties in Parliament to accept portfolios in the new Cabinet.
However, the opposition has so far refused to join the Cabinet. (Colombo Gazette)