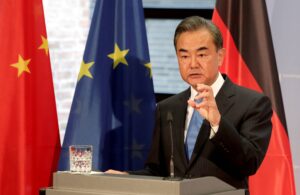 Sri Lanka has been facing a severe economic crisis since the beginning of 2021 and was trying to cushion the effect of the financial instability by seeking help from almost all friendly countries. Sri Lanka sought the intervention of the good offices of the political hierarchy of Bangladesh and Pakistan, apart from India, for much-needed assistance.
Initially, by the beginning of this year, when Sri Lanka was in dire need of assistance, a mutual friend who has many interests and many irons burning in the Sri Lankan fires chose to ignore Sri Lanka and cold shoulder the tiny Indian Ocean nation.
It is a fact that India rushed to help its neighbour with what they urgently needed while China turned a sort of blind eye, being a close ally of Sri Lanka for decades. The Chinese response to repayment and revamping of debts was far from satisfactory. The more influential Chinese Foreign Minister Wang Yi arrived in Sri Lanka early this year as one of his New Year visits covering several African countries and Sri Lanka.
He met with top Sri Lankan leaders, including President Gotabaya Rajapaksa. During the Chinese Minister's visit, Sri Lanka was saddled with debt and desperately in need of money to pay for imports while struggling with the unabated Covid-19 pandemic that had a major impact on society.
When viewed from a Chinese perspective, the visit bore significance as Beijing was keen to balance the US and the Indian influence in the Indo-Pacific region.
Sri Lanka was moreover searching for funds to replenish the depleting foreign exchange reserves and repay mounting debts and ballooning import bills. In the circumstances, Sri Lanka expected China to offer more grants while the Chinese Minister was in town to enhance and strengthen bilateral relations.
China may offer more grants while the Chinese Foreign minister is in Colombo, was the belief, the international media quoted Sri Lankan officials as saying. However, the officials concerned wanted to remain anonymous.
"Sri Lanka currently needs cash, and its leaders have sought to balance ties between major powers to get funds. The Country's finances have nosedived since the pandemic grounded planes and shuttered its tourism industry, a major source of foreign exchange earnings." the international media stated.
Meanwhile, Song Wei, a research fellow at the Chinese Academy of International Trade and Economic Cooperation, confirmed that Sri Lanka sought Chinese help to revamp its mounting loans since the epidemic has intensified the risk of debt default.
Song Wei told this to the Global Times in January. According, to Wikipedia The Global Times is a daily tabloid newspaper under the auspices of the Chinese Communist Party's flagship newspaper, the People's Daily, commenting on international issues from a nationalistic perspective.
However, the government later initiated a discussion with China on the modalities to manage the repayment of the debt it owes to that country after China stipulated its unwillingness unconditionally to renegotiate the repayment schedule.
Sri Lanka urgently needed foreign exchange reserves, and every concession, including debt revamping, would undoubtedly help the authorities to achieve financial stability in the long run.  As Sri Lanka decided to seek the help of the International Monetary Fund (IMF), the government declared a temporary standstill on honouring debts across the board.
But according to economic experts, IMF was not in favour of debt restructuring but is likely to offer a Term Loan.  The definition of a term loan states thus: a term loan provides borrowers with a lump sum of cash upfront in exchange for specific borrowing terms. Borrowers agree to pay their lenders a fixed amount over a repayment schedule with either a fixed or floating interest rate.  The duration of payment could go up to ten to thirty years.
In the circumstances, a term loan may help Sri Lanka use the money to repay other loans or use it in any other way to lessen the burden on it. Now instead of restructuring, China has offered a US$ 1 billion loan to repay loans already taken from it, plus US$ 1.5 billion as credit for buying goods from China.
At the meeting President Gotabaya Rajapaksa had with Chinese Foreign Minister Wang Yi in early January, the President has attempted to drive the point that it would be a great relief if China could devise a re-payment schedule concerning Sri Lanka. His request was to bear in mind the economic predicament Sri Lanka was facing as of that date.
The Chinese Minister, unwavering from his stand, attached more strings to Chinese investments and said Sri Lanka should make necessary conditions for Chinese investments by converting the Colombo Port City and the Hambantota Port into epicentres of industrial growth.
The Minister also emphasised the need to resume early talks to finalise the Free Trade Agreement with China. Chinese Ambassador, Qi Zhenhong, told reporters recently that China was eagerly awaiting the result of the negotiations between Sri Lanka and the IMF.
He said that Sino -Lanka bilateral relations are linked to the outcome of the negotiations, signalling that China was not in favour of the Sri Lankan stance.
On the contrary, he may have said this in the context of possible disapproval of Chinese loans by the IMF, which the West describes as debt traps heaped on developing countries. Ambassador Zhenhong also called for an early initiative to move towards a Sino-Lankan FTA.
Sri Lanka may have to be conscious of the Western reaction when dealing with China.  It is true that Sri Lanka desperately needs help from the IMF, but can they sideline China and Japan.
Japan is the second-largest largest bilateral lender.
Nevertheless, in this context, India played an exemplary role by heeding the urgent call by Sri Lanka. If China decides to sideline Sri Lanka at this crucial juncture,  Sri Lankans may conclude that China is displaying their rigidness even at a time when an old friend is in desperation, badly wanting to get out of an economic abyss which will put the entirety of a population in dire straits.
China realised this and softened its stance and declared that they also, like India, would help Sri Lanka at the International Monetary Fund to secure a bailout package which is essential. There are reports that the Chinese have agreed to supply aid, including food, medicine and fuel to the value of 300million Yuan, approximately 76 million US dollars. In the meantime, India has also delivered 440000 metric tons of numerous types of fuel to Sri Lanka in its latest move to help a neighbouring country reel under the pressure of economic hardships.