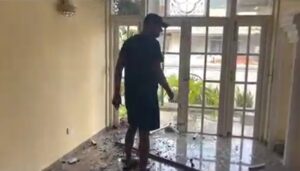 Musician Iraj Weeraratne says he is willing to visit the Galle Face demonstration site to be beaten by the public.
A mob stormed the family home of musician Iraj Weeraratne last night, causing extensive damage to the property.
Video footage shared on social media showed the mob pelting stones at the house before entering the premises.
In a video shared on social media Iraj said that he does not stay at that house and that only his parents and sister stay there.
Weeraratne said that his mother and sister were away when the incident took place while the father was in a room.
The mob had destroyed some of the furniture and equipment in the house and looted several items.
Iraj said that he was sad that the mob attacked the house where his parents stay.
He said that his parents are not involved in politics and that the house was built out of their own money.
Weeraratne said that if the public have an issue with him then they should deal with him.
He also said that he is prepared to visit Galle Face if the demonstrators want to attack him. (Colombo Gazette)