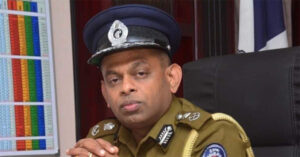 Senior Deputy Inspector of Police (DIG) Deshabandu Tennakoon was assaulted in Colombo today.
He was assaulted by a mob near the Beira Lake in Colombo and his vehicle was also later damaged.
The mob questioned Tennakoon over the failure to prevent the attack on the peaceful protest in Galle Face.
Tennakoon was at Galle Face when the mob attack on the peaceful protesters took place.
He was asked who gave the orders to allow Government supporters to attack GotaGoGama.
Tennakoon and another individual who was with him were assaulted.
A Police unit arrived at the location later and opened fire forcing the mob to flee. (Colombo Gazette)