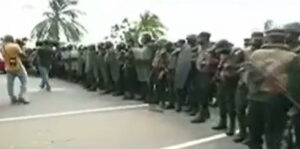 The Army and Police Special Task Force (STF) have been deployed to Galle Face to control the violence in the area. 
Several people sustained injuries as supporters of the Sri Lanka Podujana Peramuna (SLPP), armed with poles and other objects, attacked GotaGoGama in Galle Face.
The mob destroyed several tents and other structures erected at Galle Face and also attacked some of the demonstrators.
The Police formed a human chain to prevent the protesters from entering GotaGoGama.
However, the mob pushed their way past the Police human chain and attacked GotaGoGama.
The Police fired tear gas and water cannons after the mob entered GotaGoGama in Galle Face. (Colombo Gazette)