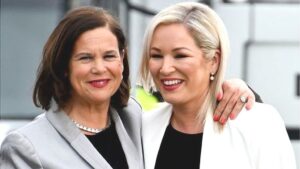 Counting in the Northern Ireland Assembly election has resumed with the republican party Sinn Féin set to win the most seats for the first time.
It is vying with the Democratic Unionist Party – whose vote share dropped – for the entitlement to nominate the next first minister.
A unionist party has been the largest in government since Northern Ireland was formed in 1921.
The cross-community Alliance Party has made gains, with 63 of 90 seats filled.
Sinn Féin winning the most seats would be a first for a party in Northern Ireland that designates as nationalist.
The DUP won 28 seats at the last assembly election in 2017, just ahead of Sinn Féin's 27.
So far this time round, Sinn Féin has 21 Members of the Legislative Assembly (MLAs), the DUP has 19, Alliance has 12, the Ulster Unionist Party (UUP) has five and the Social Democratic and Labour Party (SDLP) has four after a poor performance.
Despite seeing a surge in vote share, the Traditional Unionist Voice (TUV) regained only one seat; one independent unionist has been elected.
Counting resumed in three centres – Titanic Exhibition Centre in Belfast, Ulster University in Jordanstown and Meadowbank Sports Arena in Magherafelt – at 09:00 BST.
The ultimate goal of Sinn Féin – whose leader in Northern Ireland, Michelle O'Neill, declared the election a "historic day" – is for Northern Ireland to leave the UK and become one country with the Republic of Ireland.
But a victory for Sinn Féin in this election does not mean a vote on Irish reunification – also known as a border poll – would be imminent.
The Northern Ireland Act 1998 – which followed the signing of the Good Friday peace Agreement – stated that Northern Ireland remained part of the United Kingdom and "shall not cease to be so without the consent of a majority of the people of Northern Ireland voting in a poll".
It also stated that the Northern Ireland Secretary would agree to hold a poll if it appeared likely that a majority of people wanted a united Ireland.
Successive opinion polls suggest that is not yet the case, with the most recent, published in April, putting support at about a third.
While party leader Mary Lou McDonald said on Friday night her party was on the cusp of securing the post of first minister, she said planning for a unity referendum would come within a "five-year framework". (Courtesy BBC)