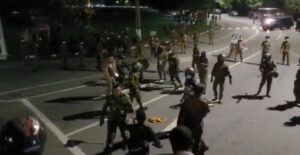 A group of protesters and the Police clashed at Parliament Road late this evening, resulting in the Police firing tear gas and water canons.
The protesters had gathered along Parliament Road hours after university students who were protesting in the area withdrew.
A tense situation arose between the protesters and the Police, including the Special Task Force.
Video footage showed STF officers assaulting at least one protester during the incident.
The Police later fired tear gas and water cannons while some protesters were seen retaliating with stones.
A tense situation prevailed in the area. (Colombo Gazette)