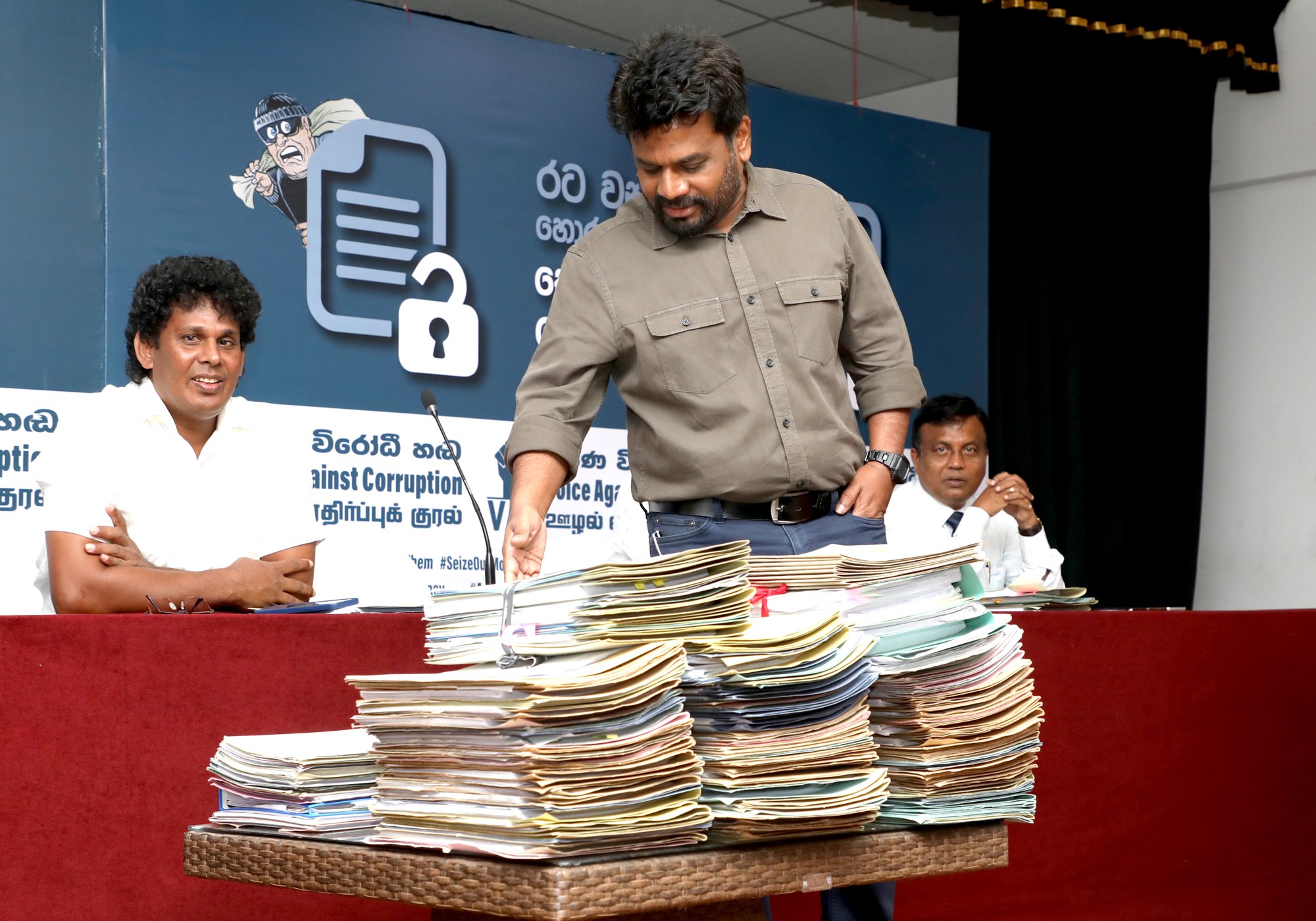 The Voice Against Corruption today revealed the hidden deals of former Minister Namal Rajapaksa.
A number of files accusing several members of the Rajapaksa family, some Government MPs and Opposition Leader Sajith Premadasa, were released today.
Former MP Wasantha Samarasinghe told reporters that a 'B-report' filed in court claimed that Namal Rajapaksa had admitted that he received Rs. 60 million from businessman Nimal Perera.
Rajapaksa had claimed the money was for rugby but according to Samarasinghe the rugby association said they did not receive such funds.
"it is clear Namal Rajapaksa had used the money for his personal benefit," Wasantha Samarasinghe said.
Samarasinghe said that the 'B-report' on the investigations into the controversial Krrish Group mixed development project deal had revealed Namal Rajapaksa's dealings with businessman Nimal Perera.
He said that investigations into the Krrish deal led to information related to the hospital projects in Hambantota and Nuwara Eliya surfacing.
Australia's ABC Media Network had this week given a long description of the investigation into allegations of corruption in a personal protective equipment contract with Australia's Canberra-based Aspen Medical Company.
The ABC's Four Corners program investigating the company had established that Aspen Medical has been embroiled in a top-level money laundering investigation after its involvement in a multi-million-dollar hospital project in Hambantota.
The company is under investigation for money laundering in connection with the construction of the Hambantota District General Hospital in 2012.
The company had obtained formal Australian government support through an $18.8 million insurance guarantee from the then-Export Finance and Insurance Corporation on the basis that the company had been hired to "supply equipment and associated medical design and infrastructure for the hospital".
Aspen's first transaction of $ 2.1 million in Sri Lanka has been made to Sabre Vision Holdings, a British Virgin Islands registered company. The transaction has come to the attention of the Sri Lanka Police.
The company was owned by Nimal Perera and had close ties to the Rajapaksa family in Sri Lanka, the investigation had revealed. (Colombo Gazette)
A 'B-report' filed in court claimed that Namal Rajapaksa had admitted that he received Rs. 60 million from businessman Nimal Perera. Rajapaksa claimed the money was for rugby but the rugby association said they did not receive such funds- former MP Wasantha Samarasinghe.

Part 01 pic.twitter.com/3oLUwMVuvU

— DailyMirror (@Dailymirror_SL) May 3, 2022