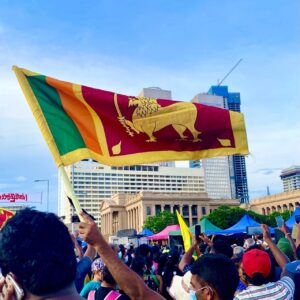 Several leading companies have raised concerns on the current crisis in Sri Lanka, including the political situation.
John Keells, Hemas and Jetwing are among the companies that have issued statements raising concerns on the crisis in Sri Lanka.
John Keells called for political stability in Sri Lanka to avoid an economic catastrophe.
The company also raised concerns over the recent violence and the demise of an individual in Rambukkana.
John Keells called on the leadership of the country to take decisive action and be conscious of the possibility of continued social unrest if the calls for change and good governance by the people are not facilitated in a manner that ensures a sustainable solution.
Jetwing also raised concerns over the unfolding developments in the country and the impact it is having on the economy, communities and individuals due to poor governance and near-sighted decisions.
Jetwing said that it also stands with everyone who wishes to engage in peace protests.
Meanwhile, Hemas said that they will do everything possible to ensure their vulnerable employees are safeguarded and that they receive the necessary support from the organization.
Hemas believes that their responsibility currently is to support the economic recovery of the country.
"We are mindful of the role we play in providing essential Healthcare and Consumer products and services to the Sri Lankan public. Despite numerous challenges, we will continue to remain agile, and adapt to ensure we serve our customers to the best of our ability. We will also extend our support by instituting programs to donate and facilitate donations of immediate response items to vulnerable communities," Hemasa said in a statement.
Hemas said the company stands ready to play its part and make the necessary sacrifices to ensure lasting economic recovery and a better future for all. (Colombo Gazette)