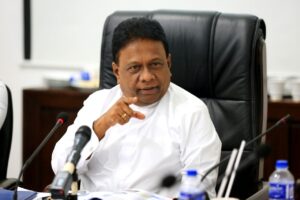 Former Media Minister Dullas Alahapperuma says Prime Minister Mahinda Rajapaksa must step down to pave the way for an all-party Cabinet to be established.
Alahapperuma, who had refused to accept a Cabinet post in the new Cabinet, has written to President Gotabaya Rajapaksa, saying the current Cabinet and the Prime Minister must resign.
He said that making such sacrifices will be remembered and will go down in history.
The former Minister said that an all-party Cabinet must be appointed, at least for one year, to address the current crisis.
He said that a small Cabinet must be appointed with the support of all the politucal parties in Parliament.
The ruling Sri Lanka Podujana Peramuna (SLPP) had decided yesterday to back Mahinda Rajapaksa as Prime Minister.
The SLPP Parliamentary Group had approved a proposal to strengthen the Government and continue under the leadership of Prime Minister Mahinda Rajapaksa.
The SLPP Parliamentary Group had noted that the Government must be strengthened to address the current crisis in the country.
The ruling party unanimously agreed that the Government must continue with Mahinda Rajapaksa as Prime Minister. (Colombo Gazette)