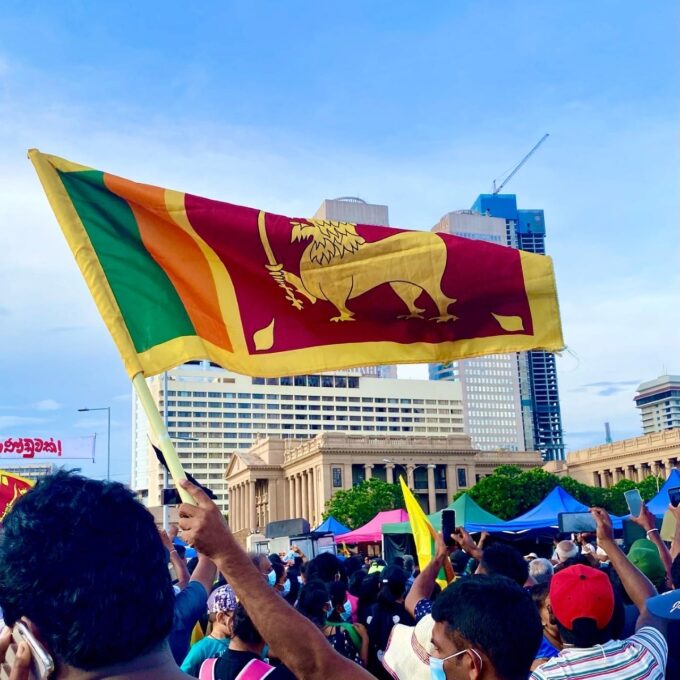 By N Sathiya Moorthy
Now that a week has passed since the people's movement, demanding the imminent exit of President Gotabaya Rajapaksa of his family members from all positions in government, the 'GoGota' agitation at Colombo's Galle Face Green beach-front is getting stuck for want of ideas on how to move forward. From the government side too, having made all Cabinet ministers to quit, to be able to belatedly form a 'national government', which mission has not taken off, there are little options but to stick on with a new ministry of old faces.
President Gota and Prime Minister Mahinda Rajapaksa have reiterated more than once that either of them is in no mood to quit. That's unless they have a sudden change of mind and offer to step down. But that is a far-fetched idea just now, the Rajapaksas having had the time to reassess their position in terms of parliamentary figures and public mood outside of Colombo City, where the rage against the ruling family has not shown up on the streets as much. Or, so it seems.
Clearly, the multi-party political Opposition too seems to have come unstuck. They wanted it as a people's movement, they got it. They wanted to move a no-trust motion against Prime Minister Mahinda and an impeachment motion for the forced exit of President Gota. Their declarations followed one after the other when local constituents were seen as staging protests outside the homes of ruling SLPP parliamentarians for a day or two.
Possibly, such protests gave them hope and pushed them to the conclusion that these MPs would have little option but to cross over, if they hoped to win another election and/or wanted to continue in politics and public life. Thankfully, such protests did not continue, but for which it could unshackled unprecedented lawlessness after the forgettable eras of JVP insurgencies in the South and LTTE terrorism in the North and the East.
While reiterating more than once that they were sworn to protect the State – and not individuals or clans? – the armed forces have also made it clear that they would not let mobocracy and hooliganism to rule the nation's streets. The latest of the army's public statements came over the weekend, pointing to the absence of any soldier on Galle Face Green even for crowd-control. The same seems applicable to the police force, too.
An early statement from the army – obviously speaking also for the navy and the air force – said that their men would guard important installations, indicating that they anticipated sabotage of some kind. If common memories recalled such occurrences from the 20th century past, it might have been possibly too reassure the public and warn prospective trouble-makers to their fate.
Injecting party politics
There is no denying the existence of a substantial segment of non-committed, non-party 'swing voters' in Colombo in particular. Their issue-based electoral support contributed to the electoral victories of the Rajapaksas in the post-war 2010 presidential polls and the more recent 2019 elections that came in the footsteps of the Easter serial-blasts. They were also the ones who contributed to the defeat of incumbent Mahinda in Elections-2015.
'Civil society' types, they were peeved at Mahinda amending the Constitution to seek a third term, upset at the impeachment of Chief Justice  Shirani Bandaranayake, and a host of issues where political morality and administrative accountability mattered the most in their eyes. They are your equivalents of the Sinhala-Buddhist nationalist lobby down South, but there is a huge difference in terms of numbers. Hence, the Sinhala politician's temptation to woo the latter, taking the urban class for granted — either for me, or against me.
However, the increasing numbers on Galle Face Green show that political types and committed voters too have joined in. They too are Sri Lankan citizens and have every right to do so. But it may be another thing if politicians too want to join in. According to reports, at least five Opposition SJB parliamentarians want to be there, as if to extend their support to the protesting people at Galle Face Green. This could poison the atmosphere though it does not automatically flow that the SJB politicos would inject party politics into public protests.
Who will blink first?
Initially, the Opposition decided not to go ahead with the no-trust motion when Parliament reconvened on Tuesday 19 April, lest it should send out wrong signals about the incumbent government's stability when it commenced bridge-loan negotiations with the IMF in Washington.
The SJB has since clarified that they were sticking to the original decision and was moving the no-trust motion in the first two days of the Parliament's session. Under the Rules of Procedure, the debate on the no-trust motion and vote should take precedence over all other proceedings of the House. Such a course under the existing circumstances would throw some clarity on the politico-administrative front, whatever the outcome.
Reports also have it that President Gota is reconstituting his Cabinet before Parliament meets but with fewer ministers of Cabinet and junior ranks. He too has a problem. After having passed off a week-long session with a five-member team, including Prime Minister Mahinda, he cannot go back to Parliament on Tuesday with the same, weak team.
Gota now needs to demonstrate that he has the numbers and he has the courage to cut down on ministerial team, and still have those numbers inside Parliament. If he does not have, the Opposition does not have to move any confidence vote. Team Mahinda would go away on its own, without the Leader of the Opposition, Sajith Premadasa, batting an eyelid.
The question then arises if the SJB-led Opposition would move private member's bill to do away with the Executive Presidency. The chances are that they would not… For the same reason that they do not have the numbers. That is the irony of electoral democracy. The perception is that outside Parliament, people may be willing to vote out Executive Presidency in a referendum. But inside, those that demand it do not have the two-thirds numbers required as a pre-requisite.
At the end of what some sworn anti-Rajapaksa media analysts have begun dubbing as a 'carnival' on Galle Face Green – which it definitely is not – the results, and not the processes, matter. If the Rajapksas are out, then there will be cause for street-celebration, and exhilaration within closed chambers. But should it fail, of which signs were available in the weeks and months ahead of the Easter blasts, then some people would possibly be going back to their drawing-boards, to revisit what had happened, to see where they had gone wrong in their initial calculations and consequent calculus.
On the face of it, the conclusion has to be that they did not provide for the 'day-after'. They knew only to begin it all, but with no clue of how to end it, or how it could end. Deep inside, their answer may lie in Sri Lanka's electoral democracy and constitutional processes, which were absent in nations where Arab Springs and Orange Revolutions had succeeded in overthrowing blatantly dictatorial governments elsewhere.
And on this third anniversary of the Easter blasts, the continuing demand of the Catholic Church and Archbishop, Malcolm Cardinal Ranjith, for 'justice to the blasts victims' is still hanging in the air. On earth, Galle Face Green and other venues occupied by public protestors could see reverberations in the form of open prayers in memory of the blast victims. This time round it could be accompanied by welcome conferment of societal solidarity and communal amity as a reflection of national integration of a kind that no politician or constitutional scheme could ensure through the post-Independence years and decades.
Will it all herald a new beginning in ethnic equity or equality or whatever? A million-dollar question, it would still remain to be!
(The writer is a Policy Analyst & Commentator, based in Chennai, India. Email: sathiyam54@nsathiyamoorthy.com)