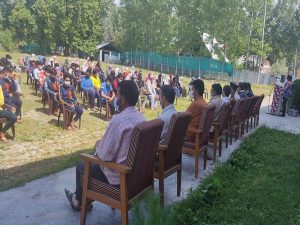 Srinagar (Jammu & Kashmir) [India], October 23 (ANI): On Saturday, a resolution was passed at a community conference center in Zakura, Srinagar, against a Pakistani-sponsored terrorist killing innocent in Kashmir.
The resolution was passed at an all-day meeting on "Kashmir: The Unfinished Agenda of Partitions" hosted by the Jammu and Kashmir Youth Development Forum (JKYDF).
The conference began primarily on 22 October 1947 in Jammu and Kashmir and focused on assessing the failure of international organizations and communities to protect Kashmiris from ongoing Pakistani-sponsored terrorism. The purpose of the meeting was to clarify Pakistan's role in terrorism in Jammu and Kashmir.
Speakers how Pakistan funded anti-state groups and terrorist organizations to destroy Jammu and Kashmir's culture and kill innocent people in the name of the so-called "Azadi". Was emphasized.
"Pakistan did not want the majority UT of Jammu and Kashmir's Muslims to be part of India, while the people of Jammu and Kashmir wanted to join the secular India, so Jammu Lost the war with Kashmir. The people of Jammu and Kashmir as a whole wanted to disrupt secular harmony for the success of bilateral theory. Jammu and Kashmir is the crown of India. , A mosaic of multiple identities that live in the spirit of peace and brotherhood, "said Farooq Ganderbali, founder of JKYDF.
He further said that October 22nd is a call to all peace-loving citizens to launch and defeat Pakistan's joint game.
"Pakistan has long used terrorism and covert action as a means of national policy towards India, which recruits, trains, funds, armed, infiltrates, and sanctuaries anti-Indian elements in India. Despite the attitude of the people adopted by Pakistan and the series of confidence-building measures adopted by the governments of India and Pakistan, "Gander Bali added.
"Pakistan has not yet dismantled the terrorist infrastructure in its territory, which will continue to be recruited, trained, funded and infiltrated by Pak-ISI by Pak-ISI. It is sponsored and used, "he added.
Another speaker at the conference, advocate Altaf Ahmad, said October 22, 1947 was the day of the invasion of Jammu and Kashmir.
"It is a misnomer to call it a tribal raid. The tribe was used by Pakistani troops as a frontal horde to hide the nature of Jammu and Kashmir's regular aggression. This invasion is a state. This is the darkest day because it collapsed and rendered. Tens of millions of rupees of Hindus and Seeks as refugees in their homeland. "
"Thousands were killed and abducted during the invasion. We must remember all those who died during the invasion, and forget that Pakistan dismantled the nation and occupied almost half of it. Must not. The people of Jangmu Kashmir under the occupation of Pakistan have been denied. All rights of freedom and during these years we see false democracy on that side and colonization by Pakistani citizens. This day reminds us of the challenge of national peace, harmony, unity and perfection. October 22nd 1947 was also the beginning of an asymmetric war against India. This aggression continues to this day. And devising an appropriate response to end this war is a challenge for the people of India, especially the people of Janmu Kashmir, "he added.
Mudisar Ahmad Advocate, Social Activist Bilal Ahmad Bhut, BA Shah Advocate, Dr. Bilal Ahmad, President JKYDF Shahyar Majid Dar, Social Activist Adv. Rabiya Rasheed spoke on the spot.
A resolution was passed against Pakistan-sponsored terrorists' innocent killings in Kashmir, stopping international organizations and communities from sending terrorists to Jammu and Kashmir to Pakistan and stopping fake social media publicity to India. I appealed to put pressure on him. (ANI)