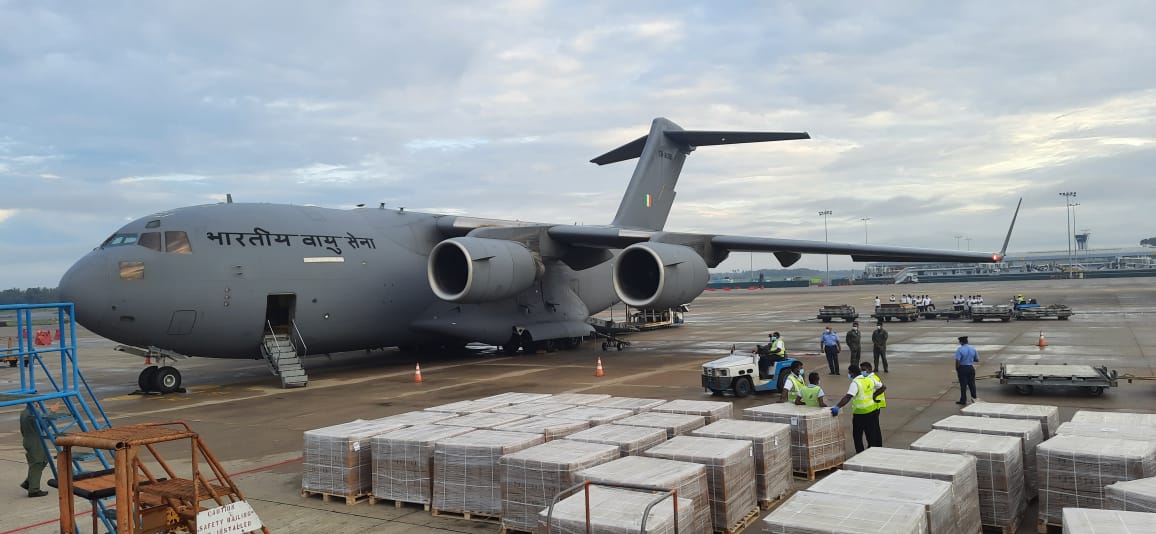 A large stock of Nano Nitrogen liquid fertilizer arrived in Sri Lanka from India today.
Two Indian Air Force (IAF) heavy lift aircraft arrived with a consignment of Nano Nitrogen fertilizer on the request of the Government of Sri Lanka.
The two IAF C-17 Globemaster aircrafts arrived at Bandaranaike International Airport with 100,000 Kg of Nano Nitrogen. The deployment was essentially to support the Government of Sri Lanka's initiative towards organic farming and to expedite availability of Nano Nitrogen Fertiliser to the Sri Lankan farmers.
The C17 Aircraft operations were coordinated in close liaison with Sri Lanka Air Force. The quick deployment of IAF aircraft and expeditious disembarkation overnight was indicative of close coordination between the two services. The aircraft crews were received by AVM Prasanna Payoe, Chief of Staff (COS) Sri Lanka Air Force. COS thanked the IAF for their prompt response and continued support in essential matters.
The Indian High Commission in Sri Lanka recalled that Indian Naval Ship Sarvekshak had undertaken a survey operation off Colombo in June- July 2021 for ensuring safety of Navigation after incident onboard MV XPress Pearl. Separately, INS Shakti was deployed for providing 100 T Liquid Medical Oxygen during the fourth wave of Covid pandemic.
The High Commission said that the Government of India has continued to support Sri Lanka in times of critical requirement as part of its 'Neighbourhood First' policy and has repeatedly demonstrated its capacity and role as the 'First Responder' in the region.  (Colombo Gazette)