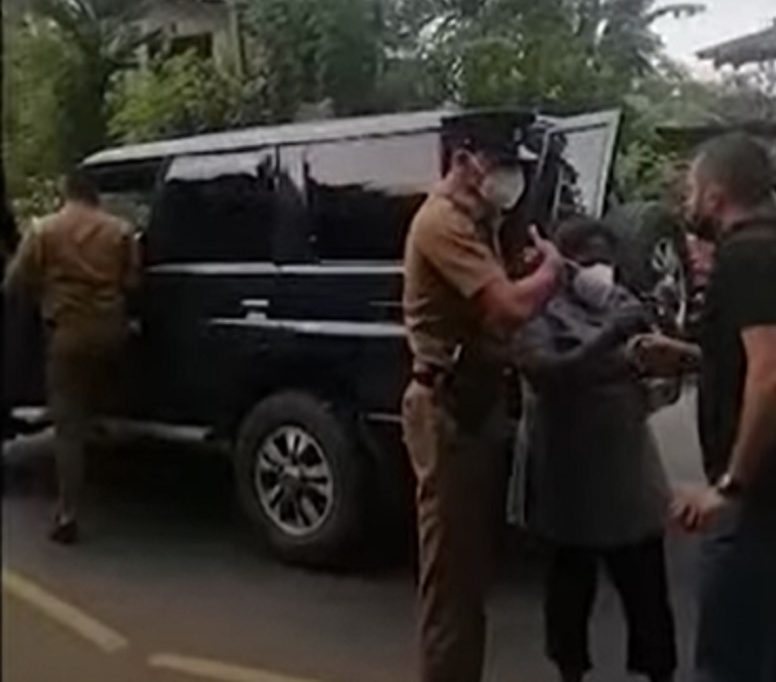 By Easwaran Rutnam 
In a shocking disclosure, a leading law firm has written to President Gotabaya Rajapaksa giving a detailed account of an incident which had occurred involving their client and a senior Police officer, accusing the policeman of sexually abusing and torturing their client.
Leading law firm Neelakandan and Neelakandan wrote to the President with copies sent to the Prime Minister, Public Security Minister, Justice Minister, and others over the incident where former Sabaragamuwa Senior DIG Ranmal Kodithuwakku had assaulted a motorist.
The incident was captured on video and shared on social media resulting in the Senior DIG being transferred as the Senior DIG of the Medical Services and Welfare Division.
New footage obtained by Daily Mirror shows the policemen and another officer threatening the motorist in his car and seemingly assaulting him and grabbing his mobile phone.
Neelakandan and Neelakandan informed the President that following what transpired on the road, their client, the motorist, was taken to the Kiriella Police Station and placed in a room.
There he was stripped naked and forced to kneel down, and was assaulted by the Senior DIG in the presence of two officers.
"Our client was forced to kneel down, assaulted on his neck, head, stomach and genitals, and SDIG pressed our clients neck with his boot causing our client to blackout," the law firm said.
Neelakandan and Neelakandan alleged that the Senior DIG also photographed their client while he was naked and proceeded to sexually harass him by pulling his genitals.
The lawyers said that on being released their client was produced at the Kiriella Rural Hospital where his injuries were inspected.
The medical Officer at the hospital had also filled a Medical Legal Report form.
The driver and his family are said to be fearing for their lives as a result of the incident that took place.
Daily Mirror attempted to contact the Minister of Public Security Sarath Weerasekera last evening to obtain a comment over the incident but he could not be reached.  (Courtesy Daily Mirror)