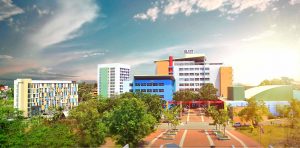 Recognized for paving the way for professional excellence in the corporate world, the SLIIT Business School proudly virtually launched its inaugural edition of its first-ever research journal 'SLIIT Business Review' to a distinguished audience recently.
To be published biannually, the SLIIT Business Review is a double-blind refereed journal with an objective to serve as platform for faculty, research scholars and practitioners of business management and allied disciplines to highlight new knowledge, innovation, use of technology and the application of the latest research tools in business and management. The SLIIT Business Review also seeks to bridge gaps between business management theories and practices.
Articles in the inaugural June 2021 – Volume 01 – Issue 01, cover a range of subjects, such as human resources, finance, hospitality, in addition to a book review. Future issues will explore topics including Business Management, Accounting and Finance, Business Analytics, Human Capital Management, Marketing Management, Logistic and Supply Chain Management with a focus on theorization and practical modelling of issues in the business environment.
Attending the milestone event, Prof. Lakshman Rathnayake, Chancellor, SLIIT launched the inaugural issue. Speaking at the event, Prof Lalith Gamage, Vice Chancellor, SLIIT said, "Contributing to research is a mandatory component of an academic. As a university we need to ascend the rankings, in order to be recognized as a world class university, and for that transformation we need to have good publications from our University. We provide many forms of assistance for research – research grant schemes, ability to collaborate with several industries and support business linkages, in addition to partnerships with high- ranking universities around the world. I commend this initiative and great effort as it will enable undergraduates an opportunity to publish, get experience and be able to publish in good international journals."
The SLIIT Business Review will maintain an open access policy with the objective of sharing knowledge and scholarly work freely available to researchers worldwide.
Addressing the participants, Prof Rahula Attalage, Dean, Faculty of Graduate studies and Research, SLIIT said, "I am very honoured to participate in the launching ceremony of the SLIIT Business Review, demarcating another milestone in the SLIIT Business School research pathway. The SLIIT Business launched today would assist in fostering the research culture, not only in the Business School but also across the entire institute in forging a rich research landscape and position SLIIT to higher elevation among other competitors – locally and otherwise."
He added, "Research is an enabler in accommodating academics to make relevant changes in teaching and learning process and also the driver to take innovative interventions of the academic staff and students to the benefit of society. Once again, I congratulate the Business School, the Dean, the Editor of the Review, the contributors, organizers and academic staff for this iconic achievement."