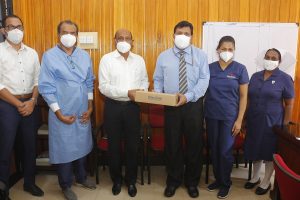 Orient Finance PLC, a member of the Janashakthi Group and leading financial service provider, recently donated essential respiratory support equipment to the COVID-19 support unit of the Colombo North Teaching Hospital – Ragama.
This initiative was carried out in line with the relief efforts of the Group's philanthropic arm – the Janashakthi Foundation in response to the nation's ongoing battle against the pandemic. Standing strong with the nation during these challenging times, the Group has pledged Rs. 50 million for COVID-19 related support initiatives for its ongoing efforts through the Janashakthi Foundation.
"We recognise our commitment to support the nation during these trying times and strive to do our part as a responsible organisation to support the country in its fast and agile response to the ongoing situation. We also take this opportunity to extend our utmost gratitude to all the frontline healthcare workers who risk their lives every day to ensure the safety of all Sri Lankans during this time," said K. M. M. Jabir, Director and Chief Executive Office of Orient Finance PLC.
"With the surge of COVID patients respiratory support equipment is an absolute need in order to manage the ongoing emergency situation. We are extremely grateful for this timely donation to strengthen the COVID-19 support units and expand our ward capacity," said Prof. Premawardhena Internal Medicine Specialist attached to the University Medical Unit of Colombo North Teaching Hospital – Ragama, expressing his appreciation towards the donation.
Over the course of 40 years, Orient Finance PLC has positioned itself as an innovative, customer-centric and futuristic financial service provider offering unique product offerings coupled with unparalleled customer service. Despite the outbreak of the COVID-19 pandemic in Sri Lanka, Orient Finance has sustained its momentum and performed strongly compared to industry peers sustaining its strategic efforts to provide the best returns for our customers, employees and shareholders.
Furthermore, Orient Finance PLC together with its Group companies – First Capital Holdings PLC, Janashakthi Insurance PLC and Kelsey Developments PLC has been playing an active role in combating the COVID-19 pandemic from the beginning of the lockdown in Sri Lanka in 2020. These relief initiatives include strengthening the safety of the frontline services, provision of immediate dry rations to affected communities and providing needed medical equipment to medical facilities and hospital and critical infrastructure development. Through the Janashakthi Foundation, the Group pledges to support local communities and the nation in times of adversity to strengthen and support them rebuild their lives.