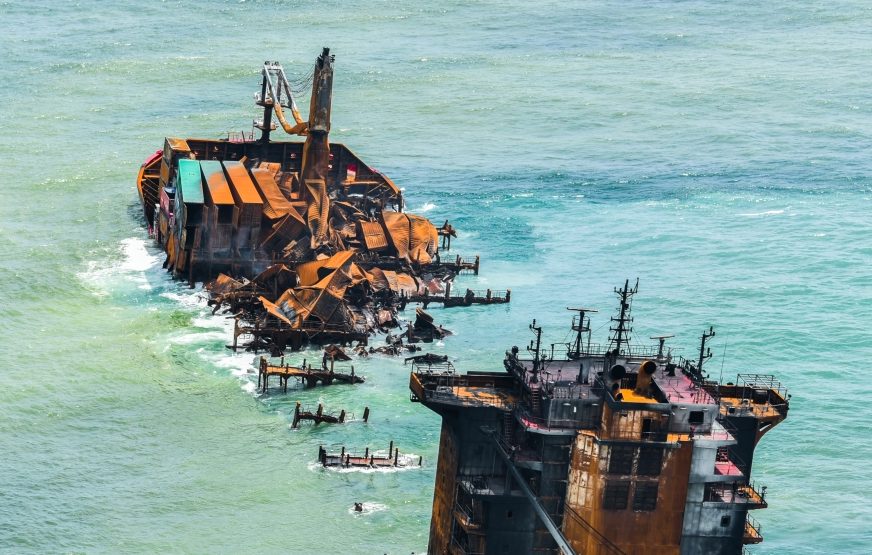 By Easwaran Rutnam (@easwaranrutnam)
Fears remain that there maybe oil still inside the sunken ship, X-Press Pearl, despite various assurances given earlier, officials said. 
Darshani Lahadupura, the Chairperson of the Marine Environment Protection Authority (MEPA) told Daily Mirror that foreign experts believe that there is no bunker oil remaining in the ship.
However, she said the ship owners have been informed that the wreckage can be removed only once there is 100 percent confirmation that there is no bunker oil remaining in the vessel.
She said that divers will need to go inside and conduct a physical inspection and give an assurance that there is no oil left.
"If there is oil left they will need to transfer it to another tanker before removing the wreckage. It's a must," she said.
Lahadupura said that the wreckage continues to be monitored, including through the use of drones, to detect any possible oil spill.
She said that a thin sheen of an oil slick which emerged after the ship sank, is still visible but has reduced.
Asked if it was confirmed that the thin sheen was oil and not any other material as was claimed by some authorities earlier, Lahadupura insisted that it was oil but not bunker oil.
She also said that Sri Lanka is keen to have the ship and containers which are in the seabed removed at the earliest.
"We want to remove this as early as possible. Coastal fishing is banned mainly because of these sunken containers," she said.
She said that a caretaker company has deployed divers to conduct underwater surveys of the containers.
Lahadupura said that the ship owners have called for tenders to remove the wreckage and a number of companies, including those from Sri Lanka have expressed interest.
Meanwhile, MEPA said that samples of the plastic nurdles from the ship have been sent to overseas labs for testing.
Lahadupura said that some samples have been sent to London for testing while others will be sent to other foreign labs to identify the hazardous material in the plastic. (Courtesy Daily Mirror)