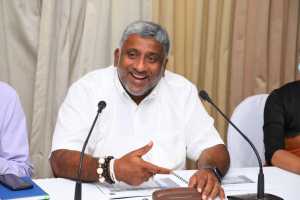 Construction work on the Central Expressway in Gampaha has been suspended.
Gampaha District Parliamentarian and Minister of Tourism Prasanna Ranatunga said that construction work in Gampaha has been suspended in order to review the project.
The decision was taken after the Minister visited areas affected by floods in Gampaha today.
He also visited the area in Gampaha where an access road has been constructed for the project.
Some parts of Gampaha have been flooded as a result of the construction.
Ranatunga said that the Government will review the project plan in Gampaha and make amendments if required.
The Central Expressway, is a proposed road project that will link Colombo with Kandy.
The project will provide a fast alternative to the existing A1 Road connecting Colombo and Kandy. (Colombo Gazette)