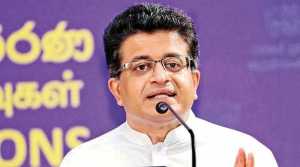 The Sri Lanka Podujana Peramuna (SLPP) has demanded the resignation of Energy Minister Udaya Gammanpila over the increase in fuel prices.
SLPP General Secretary Sagara Kariyawasam said that raising fuel prices at a time when the public are already facing difficulties as a result of the coronavirus is unacceptable.
He said that the Energy Minister must take responsibility of the situation and resign.
Gammanpila had said yesterday that the Government delayed a price increase as a result of the coronavirus situation.
He said the Government decided not to increase the price of fuel despite a sharp increase in world oil prices.
However, he said the Government was not in a position to delay a price increase any further.
As a result, the Cabinet Sub-Committee on the cost of living approved a proposal to increase the price of fuel.
Accordingly, Ceylon Petroleum Corporation (CEYPETCO) announced that Petrol Octane 92 has been increased by Rs. 20 per litre, Octane 95 by Rs. 23, Auto Diesel by Rs. 07, Super Diesel by Rs. 12 and Kerosene oil by Rs. 07.
Lanka Indian Oil (LIOC) has also increased fuel prices. (Colombo Gazette)