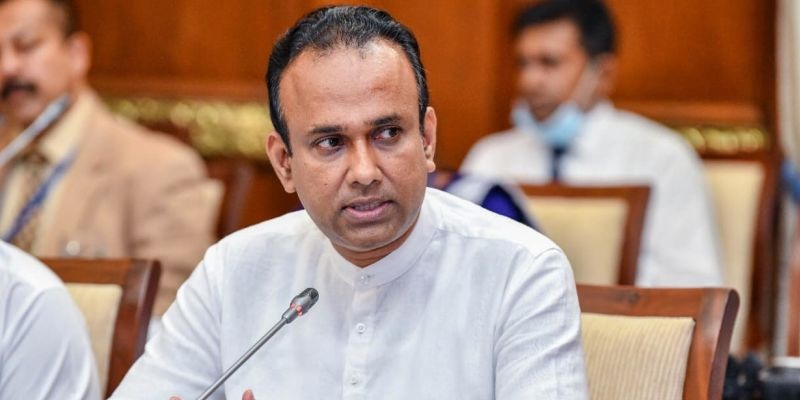 Sri Lanka is looking at alternatives as there is no hope on securing AstraZeneca vaccines from the Serum Institute in India.
Cabinet co-spokesman Minister Ramesh Pathirana told reporters today that the Government does not believe that the Serum Institute of India will be capable of delivering the remaining stocks of the AstraZeneca vaccine doses as ordered previously.
He said the Serum institute is yet to deliver 600,000 doses of the vaccine, while only 300,000 people have received the 2nd dose with the stocks that were in the possession of the Government.
Stating that a shortage in vaccines was caused due to the coronavirus situation in India and a fire that had broken out at the institute, Minister Pathirana said Sri Lanka is currently forced to look at alternatives to address the shortage.
Minister Ramesh Pathirana said as a result, the Government is looking at sourcing the vaccines from China and Russia.
He said the Government is looking at acquiring the Sinopharm and Sputnik V vaccines to fill the shortage caused by AstraZeneca.
This is being considered as the Government's aim is to vaccinate as many citizens as possible, the Cabinet co-spokesman said.
Commenting on the shortage of the AstraZeneca vaccine, Cabinet co-spokesman Minister Udaya Gammanpila said the Government is also in discussion with manufacturers of the AstraZeneca vaccine in other countries. 
He said apart from this, the mix and match option is also being considered to address the crisis. 
Minister Gammanpila explained that some countries have administered AstraZeneca as the 1st dose and have provided the Pfizer vaccine as the 2nd dose. 
Pointing out that Russia has also conducted similar trials, Minister Gammanpila said Sri Lanka is also looking at a similar alternative.
He said however that health experts are yet to approve the mix and match option in Sri Lanka.
Meanwhile, Cabinet has granted approval to purchase 14 million doses of the Sinopharm vaccine and 1 million doses of the AstraZeneca vaccine.
The proposal in this regard was submitted by Health Minister Pavithra Wanniarachchi, with an aim to vaccinate 60% – 70% of the population by the end of this year. (Colombo Gazette)